HOYOGO 2021 New Year Party
In extraordinary 2020, we have experienced a lot of ups and downs, experienced a lot of wind and rain, but that created extraordinary us! In the past year, our company's brilliant performance is attributed to the hard work of everyone. The new journey in 2021 has begun. In order to sum up the past year, welcome the new year, and thank everyone for their contribution, we held a grand and warm annual feast at 10:00pm on January 17th. Hope in the new year, we will work hand in hand to move forward to the set goal and break through, and create resplendence!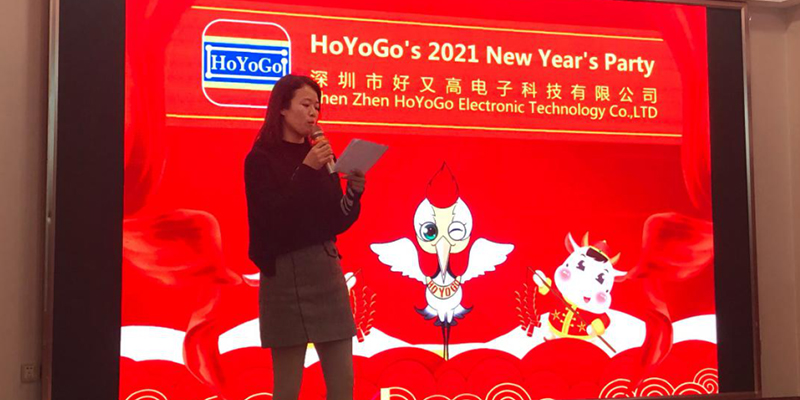 Speech by Mr. Liu
2020 was a year to practice internal skills, so the quality in 2020 has been greatly improved compared with previous years. He positioned that 2021 is the year when the company's corporate culture falls to the ground and practices spirit. It was precisely because the internal skills have been practiced in 2020 that the company has smoothly passed through the outbreak period of the epidemic and transitioned to a normal period of epidemic prevention and control. In 2020, we have made great progress in terms of market performance, product quality, planned delivery and R & D projects. It is hoped that after refining the spirit in 2021, the company will have a qualitative leap in 2022. Finally, he thanked everyone for their hard work and hoped we can enjoy the feast of the new year's Party.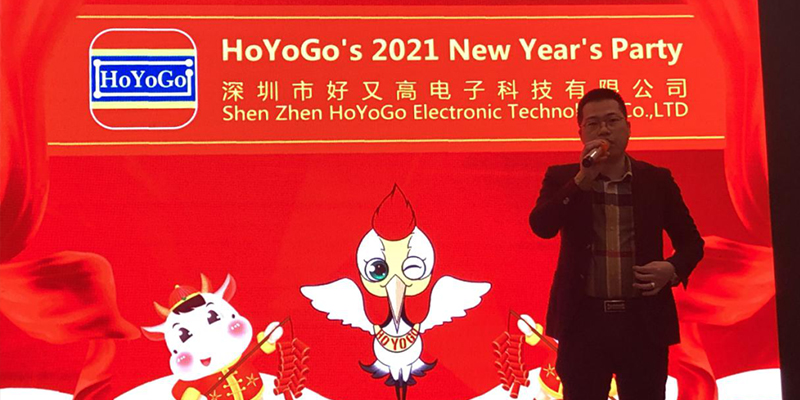 The next step was to reward senior staffs.
Mr. Liu distributed red envelopes and trophies to the old employees who have served the company for more than three years, thanking them for their hard work over the years.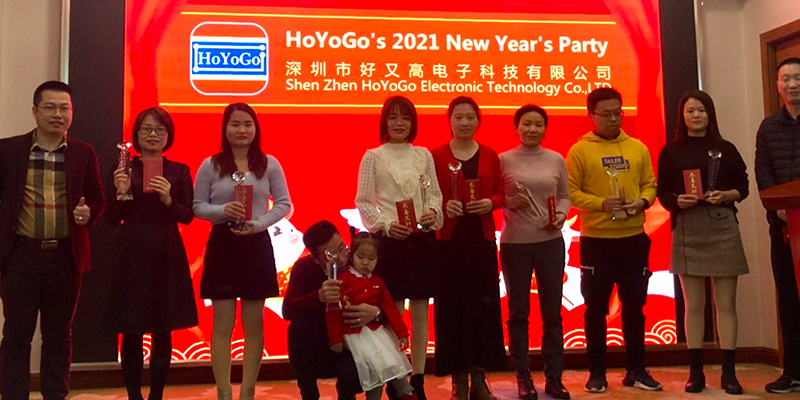 Yumi Spoke
Looking back on 2020, it was not easy for mankind. Under the influence of COVID-19, many people passed away permanently, many enterprises howled, and many peers felt confused. In 2020, HoYoGo will take advantage of the situation, and all posts will consciously shoulder the mission, actively struggle and strive to be a good struggler in the new era. Compared with 2019, our performance has increased by more than 25%. It is precisely because we have a forward-looking and directional leader, Mr. Liu, who can guide our HYG team in the right direction when HYG encounters a crisis, and is everyone's compass and source of strength! "
For an enterprise, an excellent enterprise needs excellent people, pioneers, and heroes. As Mr. Liu said, ordinary people make greatness, outstanding people comes from colleagues, and everyone is great. Just as our country relies on the tenacious struggle of generation after generation, from poverty and weakness to today's development and prosperity, so is HoYoGo. HYG culture support actors, not talkers who sit back and talk. We should be strugglers to overcome difficulties, rather than being a mud bodhisattvas who are afraid of wind and rain. We should increase our talents in the process of working hard, and accumulate experience in layers of experience, so as to enrich our spiritual life. The labourers who struggle are the people with the richest spirit, and they are also the ones who know happiness and enjoy it most. The highest level of happiness is "our state of selflessness at work", so she shares her personal feelings here. People are destined to have a happy life if they have the spirit of gratitude and dedication.
At the same time, our every colleague should learn the HOYOGO corporate culture and learn how to be the best and the happiest: In the pursuit of the material and spiritual life of all employees, to make contributions to social harmony. Although material life and spiritual life are different, they are also related and mutually reinforcing. Material life is foundation and condition, while spiritual life is goal and result. Material life is for survival, spiritual life is for the meaning of survival. Material life and spiritual life promote each other and develop together. We should not only pursue the basic material, but also pursue spiritual sublimation, so as to make due contributions to social harmony.
Finally, she wishes all HOYOGO people in 2021 create a more brilliant future, through hard struggle, can overcome difficulties, forge ahead!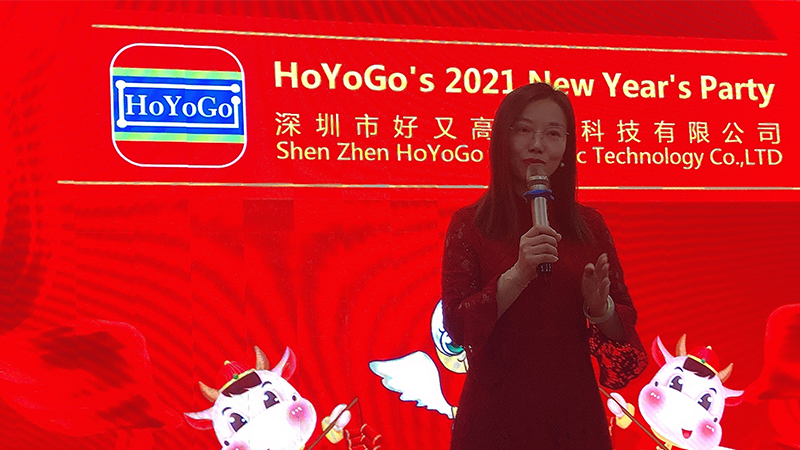 The next step was to reward everyone with beloved red envelopes.
Reward Excellent Employees
The winner of this year's Outstanding Manager Award: the QA Manager, Mr. Gu, who joined the company in October 2019 and led his team to achieve quality goals many times in a year. There is a long way to go in the future. Let's go forward hand in hand.
The winners of this year's Outstanding staff Award: Ms. Wu from the Marketing Department, Mr. Chen from the Engineering Department, and Ms.Dai from the General Office Director.
Wish you all a prosperous career in the new year, under the leadership of the company in the new year!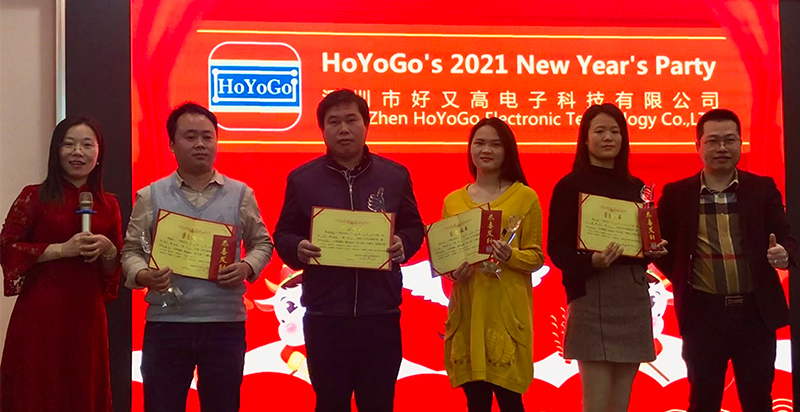 Congratulations on Personal Promotion
Congratulations on the staff promoted: Ms. Yang from the Finance Department has been promoted from Finance Commissioner to Senior Finance Specialist!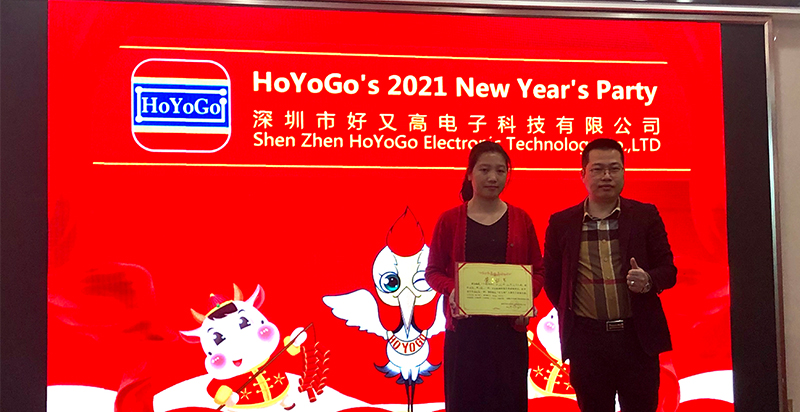 Reward Family Member
The development of the company is inseparable from the support of the family members, the company thanks the family members for their support to our colleagues' daily work! Hope them happy everyday with a happy family reunion!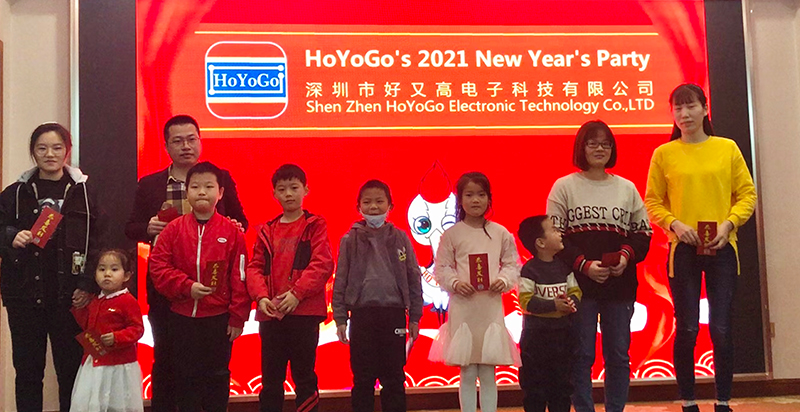 Reward Logistics Service Team:
Congratulations to the Engineering Departmen teamt, QA Department team, customer service from Marketing Department for achieving their goals set at the beginning of the year.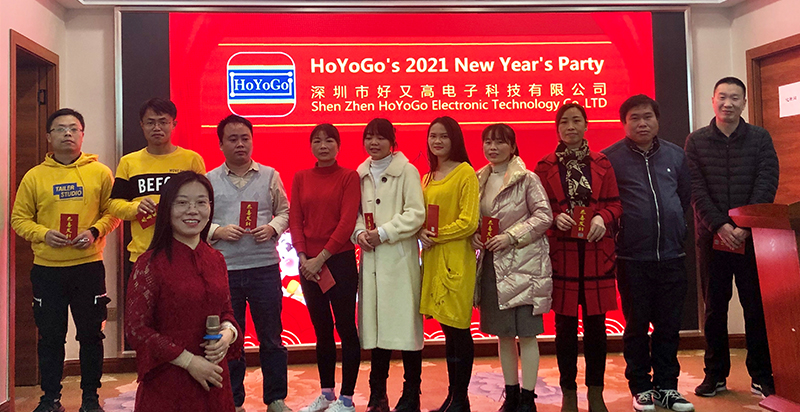 Performance Reward
The performance in December 2020 was more than double of that in 2019, and the company offered three times of the performance bonus to reward everyone.
Then, with everyone's laughter and laughter, we gathered together and began to enjoy the feast.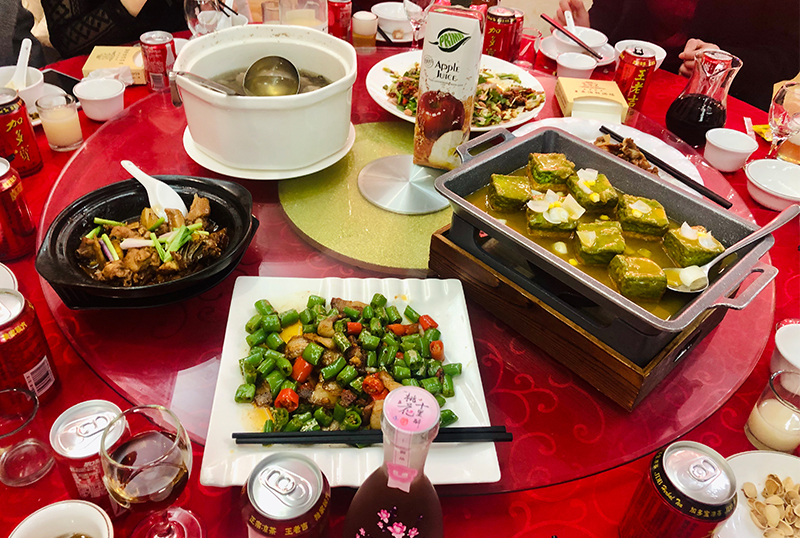 Lucky Draw
During that period, we also conducted several lucky draws. Below are photos of the winners.
Second prize winner (6 people).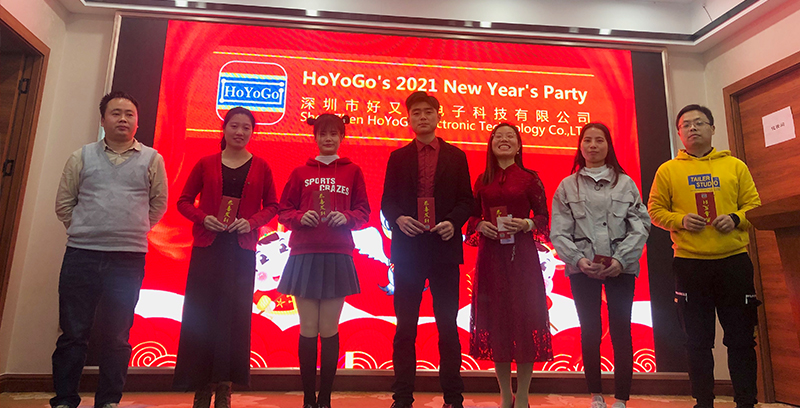 First prize winner (4 people).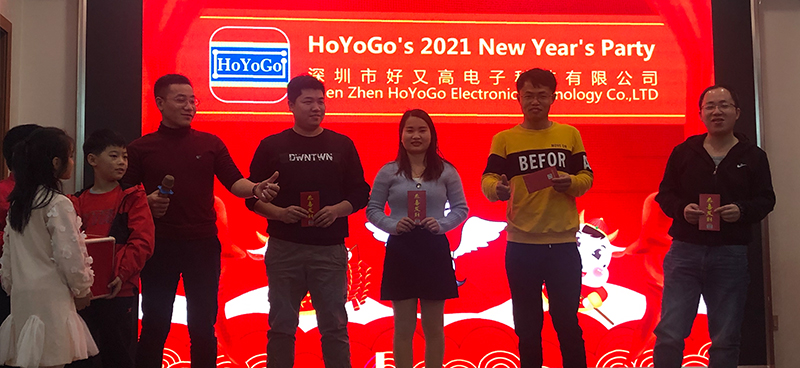 Third prize winner (19 people).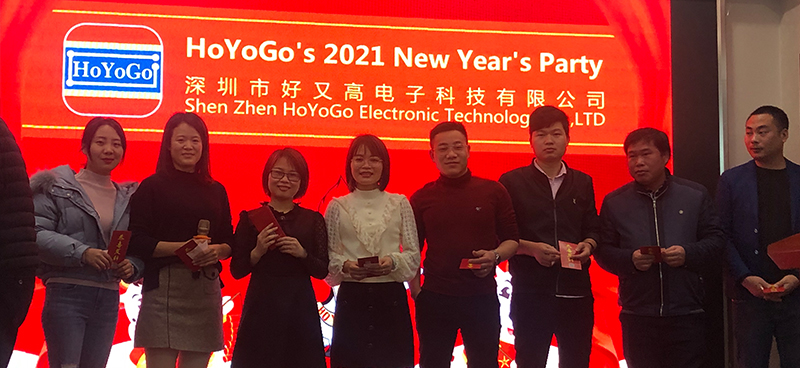 Grand prize winner (2 people)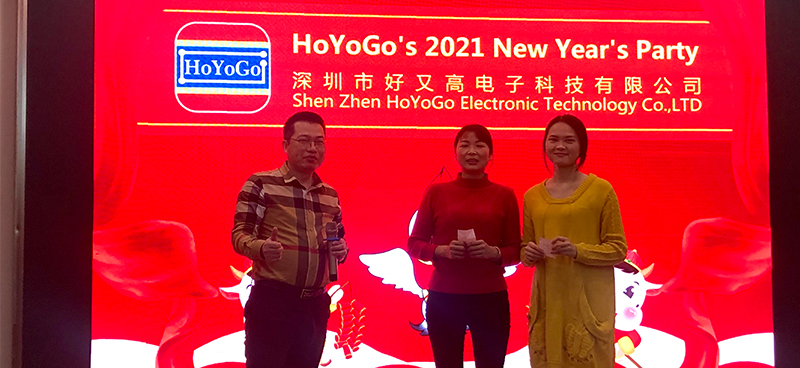 Celebrated Employees' Birthday
Many happiness returns of the day. Happy birthday to birthday stars, wish them go forward without ups and downs and return with starlight!

New Year's Party was Over
Looking back on the past 2020, we have too much memories, looking forward to 2021, we have too many hopes, and we are not afraid of ups and downs. We are ready for the new year and stand on the new starting line. We wish the company a prosperous performance, wish every colleague a happy and auspicious new year, and the whole family is happy! See you next year!